HIPBONE STICKING OUT World Premier Season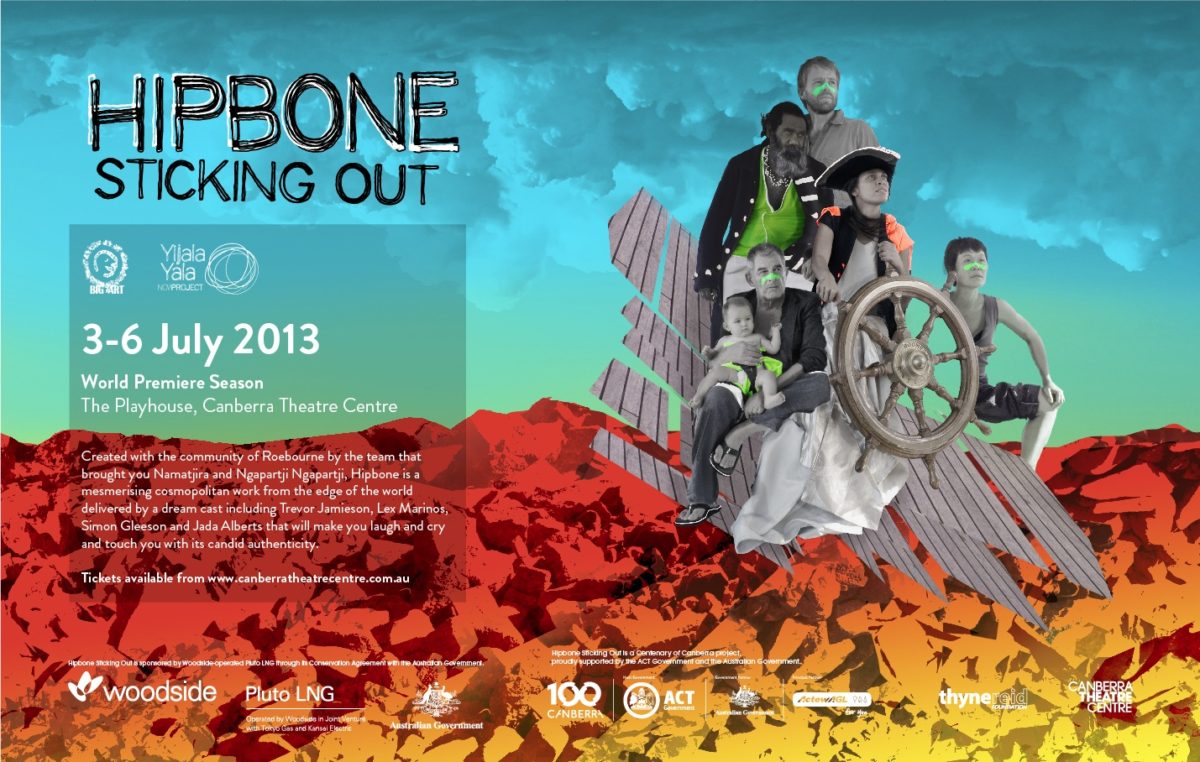 3-6 July at Canberra Theatrehttp://www.canberratheatrecentre.com.au/site/what-is-on.php?detail=hipbone-sticking-out-0405
PERFORMANCE ENSEMBLE Jada Alberts, Simon Gleeson, Trevor Jamieson, Derik Lynch, Lex Marinos, Natalie O'Donnell, Yumi Umiumare and others from the Roebourne Community.
CREDITS: Writer/Director                  Scott Rankin Set Design                        Genevieve Dugard Costume                           Tess Schofield Musical Director               John Rodgers Sound Design                  Jeremy Silver Foley Sound Artist            David Hewitt Choreography                  Yumi Umiumare Lighting Design                Nicholas Higgins Video                                Benjamin Ducroz Creative Producer            Debra Myers Associate Producer          Elspeth Blunt Production Manager         Neil Fisher
Hipbone Sticking Out spins the globe upside down and sets its teeth rattling to the tune of The Clash, The Stranglers, Britney Spears, sea shanties and traditional songs of the Pilbara in glorious six part harmony. Clothed in hi-viz work wear and set against the backdrop of Murujuga – the world's largest outdoor rock art gallery - a stellar cast creates a tour de force story beginning in 1602 that places the Pilbara at the centre of world history.
In the town of Roebourne a young man, John Pat, scuffles with police, hits his head on the footpath and is left in a police lockup. He finds himself travelling through time from the beginning, meeting Greco/Roman Gods, tracing the spice routes, the exploration of the Indian Ocean, the paintings of Vermeer, the pop music of 1800's, the coming of ghost people to Ngarluma country, slavery, pearling, new law, ancient law, and the mining boom of the present. During the performance John Pat's family hold the truth of this story in their hands as witnesses. Like all Big hART's pieces it will make you laugh and cry and touch you with its candid authenticity.
Created with the community of Roebourne by Scott Rankin and Big hART Hipbone is delivered by a dream cast including Trevor Jamieson (Pitjantjatjara), Derik Lynch (Yankunytjatjara), Lex Marinos (Greece/Wagga Wagga), Simon Gleeson (Scotland) Natalie O'Donnell (United Kingdom) and Jada Alberts (Yanyuwa/Larrakia). The performance combines rich layered vocal harmonies, outrageous comic makeovers, messed up ensemble movement, striking digital imagery, sweeping design and freestyle costuming to create a mesmerising cosmopolitan work from the edge of the world.
Hipbone is produced by Big hART, who over the last two years has brought Canberra audiences to their feet with Namatjira and Ngapartji Ngapartji. Now the third work in this trilogy has its world premiere in Canberra as part of Big hART's residency at the Canberra Theatre Centre.
Hipbone forms part of the larger Yijala Yala Project which is supported and encouraged by cultural leaders and the creative talent of the community in the Pilbara. Woodside Pluto LNG is the principal sponsor of the Yijala Yala Project and Hipbone Sticking Out.